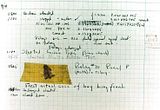 The First Recorded Computer Bug
In 1945, Grace Murray Hopper (devenita prima femeie Amiral din Armata Navala americana) lucra la Harvard University pe un calculator Mark II Aiken Relay (un computer primitv…printre primele aparute).
In 9 Septembrie 1945 calculatorul s-a blocat iar dupa ce au stat, chinuit, sapat si gandit au gasit in cele din urma problema blocarii: o molie era prin mashinarie (….an investigation showed that there was a moth trapped between the points of Relay #70, in Panel F….).
A fost intocmit un raport, iar molia au anexat-o (lipit-o
) la dosar. (poza de mai sus – click pentru a mari) cu titlul: "Primul caz de gandac gasit "(traducere ad litteram din engleza "First actual case of bug being found.").
De aici deriva cuvantul "debuged" si termenul " debugging a computer program".

In 1988, aceasta fila din dosar(log) cu tot cu molie, a fost expusa la Muzeul Naval Surface Warfare Center Computer din Dahlgren, Virginia.
Small insects in my screen!
Ok, dar sa revenim in zilele noastre
. Pe forumul de la apple.com am gasit acest thread. Un tip se plange ca o furnica ii umbla prin LCD. Nu mi-a venit sa cred dar se pare ca e adevarat:
PS. Sper sa nu fie o campanie Apple pentru cei de la Pixar care se pregatesc sa lanseze/au lansat deja "A Bug's Life 2"
Sfat: daca gasiti vreo furnica prin monitor, asigurati-va ca nu isi alege locul obstescului sfarsit pe undeva prin centrul ecranului.. ar fi cam greu sa ajungeti la ea,eventual scuturati monitorul pana cade(daca nu e CRT).