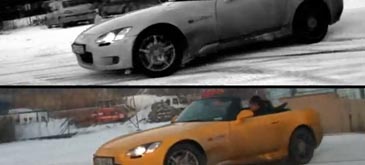 Camera used: Sony HDR-FX1
Software: Adobe After Effects (with particular for the particles); Adobe Premiere PRO
Song: Kid Rock – So HOTT

For the next film, which will be longer and with more action on dry road, i got a GoPRO HERO HD (brilliant little camera, that if put into the front bumper will record very steady shots. I was actually surprised)
Dupa mai bine de un an de la inceperea filmarilor, teaser-ul lui Q s-a transformat intr`un short foarte bine realizat. Tehnic vorbind, clipul a fost filmat in decurs de o sapt cu un Sony HDR-FX1 de catre Calin F. Post-productia a fost mana lui Q, iar soferi: Q & Calin F (RealDesign.ro).
Avand in vedere feedback-ul primit, se pare ca va exista si un al 2-lea film, mai lung, mai dinamic, mai exploziv. 😉


P.S. Masina cu pricina o puteti vedea pe strazile Brasovului, condusa de catre Qiuness.