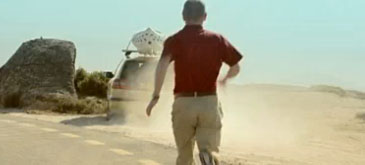 Centraal Beheer is an insurance company sited in Apeldoorn, The Netherlands. It is one of the largest insurance companies in the country. It is usually referred to as "Apeldoorn".
Centraal Beheer is famous for its campaign of TV commercials that has lasted for over fifteen years now. These are short humoristic spots, generally without dialogue, in which something goes horrendously wrong, followed by the catchphrase "Even Apeldoorn bellen" ("Let's call Apeldoorn"). This phrase is sometimes used as a general saying, in meme-like fashion to mean something like "oops" or "doh", and it is for this reason that the company is generally referred to as "Apeldoorn" rather than its proper name. On the international versions of the commercials, the catchphrase is simply "Just call us".

Centraal Beheer este una din cele mai mari companii de asigurari din Olanda iar reclamele facute pentru ei sunt mereu exceptionale. Imi permit sa va readuc aminte de  asta sau asta.
Mai jos o puteti viziona pe ultima:
Si daca aveti timp, puteti viziona o gramada de alte reclame mai vechi aici – link sau un calup intreg aici – link.