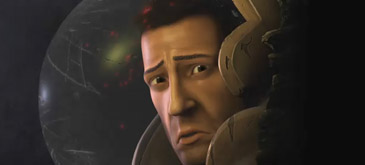 Eleven (HD 2010) – Operative 4511 is a space marine on his own and outnumbered. Sometimes the voice you reach at the other end of the comm can mean the difference between life and death! 'Eleven' plays with the visual style of fps video game cut scenes that were popular when it was conceived.
Reluam rubrica noastra saptamanala prin intermediul acestui excelent scurt-metraj. Am doar eu impresia ca personajul principal are imprumutat un pic din carisma celebrului Bruce Willis?
[thx to mek]
Nu uitati, in fiecare vineri am sa incerc sa "anunt" sfarsitul de weekend postand cate o animatie draguta in rubrica noastra saptamanala. Daca vreti sa ma ajutati si voi cu materiale nu ezitati sa imi trimiteti un mail la fulgerelu[coada de maimuta/a rond]gmail[punct]com sau folosind formularul de contact .