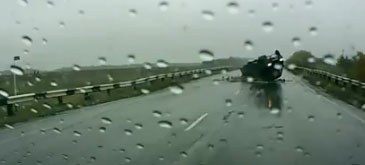 The 5th version of the Russian car crash series. This time it's a 14 minutes long. The longest compilation ever uploaded. I hope you will enjoy it and I hope everyone will watch out while driving. No one died in any of the car crashes.
Conform unui studiu (nu am gasit inca linku' cu pricina) soferii romani sunt pe locul 10 in Europa cand vine vorba de cat de buni conducatori auto sunt. Sunt curios pe ce loc se afla rusii – tocmai din acest motiv, daca gasiti linkul cu pricina sa mi-l arati si mie.
Fiti atenti la minutele 3:05 sau 8:28, acolo se intampla niste lucruri extrem de neobisnuite.