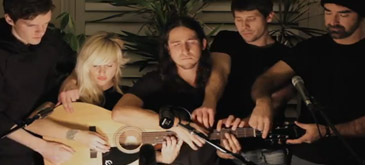 Walk off the Earth perform a cover of Gotye's "Somebody that I used to know" using five people on one guitar. We would like to thank Gotye and Kimbra for writing such a beautiful song if you have not heard their Music please go and check them out.
Poate multi dintre voi se vor intreba ce are atat de special acest videoclip incat sa merite atentie. Nici eu nu stiu, recunosc ca inca nu l-am vizionat, am vazut doar primele 3 secunde din el si asta m-a convins ca merita postat. Ahh, sa nu uit, in secunda 4 am observat ca are deja 15 milioane vizionari in doar 7 zile. Si va jur ca nu e al lu' Lady Gaga!
Later edit: Si daca tot ne jucam cu cifrele, tipa talentata are deja ~ 22 milioane de vizionari.