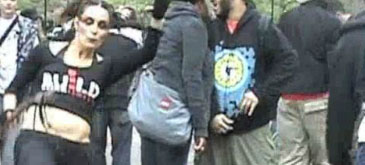 I was passing by a rave in Tompkins Square Park and decided to investigate. I think it was the summer of 2007 or 2008.
Pustiul de la minutul 0:59 pare a fi cea mai normala persoana din zona. Se uita mirat  imprejur si nu prea intelege ce se intampla, nu intelege ce face Mos Craciun acolo (asta apare in peisaj la 1:24) si de ce nu e la Polul Nord.
Update: Si daca tot veni vorba, de astia va aduceti aminte?
[thx to Groove]