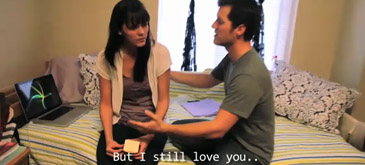 What would you do if you had minutes to live? Trace one young man's few minutes of trying to fulfill his highest potential. written and directed by Ien Chi

Never have I put in so much effort into a single film. This short film is the result of hundreds of hours of work from many people. It is definitely the most ambitious and biggest scale project I've done thus far. Watch in HD and with good sound!

Filmed with a 5d mark ii with 24-70mm lens on a steadicam merlin. We did 36 takes to get the right one. Yes, the film is all in one take. All shot on Oxford College of Emory campus.
Cum ar fi daca ai afla ca mai ai de trait doar cateva minute? Un scurt metraj realizat de catre un tanar student (Ien Chi).


[thx to hiDenUL P.N]