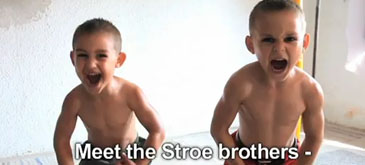 World's Strongest Kids

No one messes with these kids on the playground..
Pe Iulian Stroe il cunoasteti deja – l-a pus tac'su la treaba de cand avea cinci ani. Se pare ca intre timp s-a apucat si frac'su (Claudiu) de batut recorduri. Gurile rele zic ca acest efort la care este supus trupul micutilor atleti le poate face mai mult rau decat bine, spre exemplu pot avea probleme cu dezvoltarea oaselor iar altii zic ca le face bine. Oricum ar fi, mie totusi mi se pare anormal sa-ti antrenezi copiii de la varsta asta….