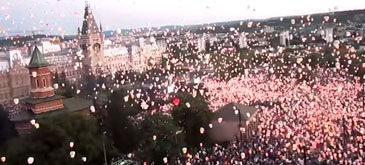 Guiness World Records – Most kongming lanterns (sky lanterns) flown simultaneously. Over 11,856 (12,740) sky lanterns (settling a new world record previously held by Rakesh Vanka and Prasnath Yerramilli in India, on 25 March 2012) were risen above the sky of Iasi, a beautiful city from Romania.

By Andrei Florescu

An event held by PALAS Iasi.
2nd of June, 2012
Romanii au stabilit un nou record mondial zilele trecute la Iasi. Peste 12.000 de lampioane chinezesti au fost inaltate simultan in vazduh depasind recordul indienilor stabilit pe 25 Martie 2012.
Niste imagini spectaculoase:

[thx to hidDenUL P.N]