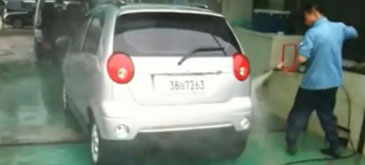 Master of car wash in Korea
He can wash a car not water putting in the car inside at all.
Tipul asta este din Coreea (De Sud) si se zice despre el ca spala zilnic 40-50 de masini. Interesant este faptul ca pe langa rapiditatea si acuratetea desavarsita, niciun strop de apa nu ajunge in interiorul vreunei masini. Imaginile de mai jos va vor ajuta sa intelegeti ca tipul chiar se pricepe.