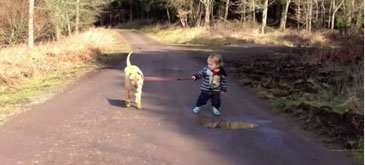 Watson the dog stands by while the boy does a quick assessment of the puddle situation. Could this be the cutest video ever?
"Tu stai doua secunde aici, ma duc sa verific ce e cu baltoaca asta minunata si apetisanta. Revin imediat, ok?"
Filmuletul de mai jos are 3,3 milioane de vizionari in doar 9 zile de la publicare. Cred ca stiu si din ce motiv, cainii se comporta extraordinar cu "puii de om", orice stapan de caine imi poate confirma asta.