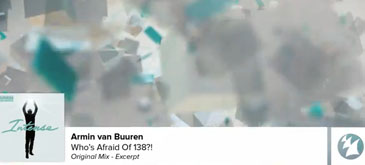 It's the first official single of the album that dance land has been waiting for. The premier introduction to 'Intense', the fifth artist album of the world's number one DJ, Armin van Buuren. It's the feel-good 'This Is What It Feels Like' ft. Trevor Guthrie, that rushes in.

'Intense' is out on May 3rd.
Continuam seria recomandarilor facute de voi, astazi ascultam o piesa trimisa de catre Alexandru Stancu, o piesa prezenta pe "Intense" – cel de-al cincilea album al celui mai bun DJ al lumii – album ce va fi lansat pe 3 mai 2013 la Armada Music.


"Intense" contine 15 productii, noua dintre acestea sunt cu voce. Armin van Buuren – Intense:
-Intense (feat. Miri Ben-Ari)
-This Is What It Feels Like (feat. Trevor Guthrie)
-Beautiful Life (feat. Cindy Alma)
–Waiting For The Night (feat. Fiora)
-Pulsar
-Sound Of The Drums (feat. Laura Jansen)
-Alone (feat. Lauren Evans)
-Turn This Love Around (vs. NERVO feat. Laura V.)
-Won't Let You Go (feat. Aruna)
-In 10 Years From Now
-Last Stop Before Heaven
-Forever Is Ours (feat. Emma Hewitt)
-Love Never Came (feat. Richard Bedford)
-Who's Afraid of 138?!
-Reprise