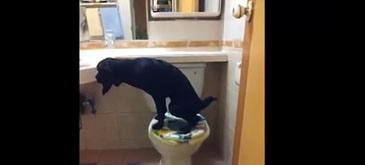 Dog sitting on the toilet
Very smart dog poop and pee in toilet
Hmmm, nu stiam ca asa ceva este posibil, in imaginile de mai jos urmarim un caine ce foloseste toaleta. Are si propriul capac de wc pe care-l coboara ori de cate ori are treaba pe la buda (indiferent daca face treaba 1 sau 2). Trebuie sa mai mentionez si faptul ca dupa ce termina ce are de facut, trage si apa?
Omg, de necrezut:
thx to branco