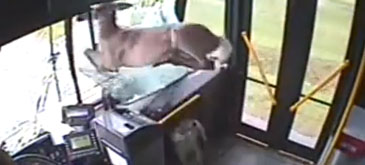 Deer Fare: The deer smashes through the bus windshield with surprising force — apparently after failing to leap out of the vehicle's way in time. Yet despite taking out an entire windshield panel at speed, the animal can been seen on the bus's own security footage quickly scrambling to get back up to its feet, its hooves slipping around on the floor beside the stunned driver as it tries to flee.

The drama unfolded yesterday evening on a public bus in the US state of Pennsylvania.
….daca v-ati fi aflat in locul acestui sofer?
Minutul 0:06 – caprioara intra prin parbriz. Minutul 0:50 caprioara iese pe usa din fata.


thx to branco