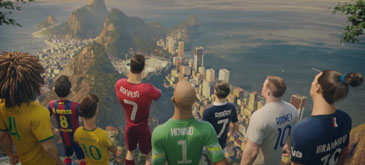 Nike Football: The Last Game ft. Ronaldo, Neymar Jr., Rooney, Zlatan, Iniesta & more
The Last Game' is a story about risky football versus safe football.
The scientist and the clones want to prove that riskless football is more effective.
Ronaldo Fenomeno and the original players disagree, and they are willing to risk everything to prove the scientist wrong.
There is only one way to know who is right: the Last Game.
Featuring (animated): Cristiano Ronaldo, Wayne Rooney, Neymar Júnior, Zlatan Ibrahimović, Andrés Iniesta, David Luiz, Franck Ribéry, Tim Howard and Ronaldo Fenomeno
O nooa reclama marca Nike ce a adunat ~ 18 milioane vizionari in doar 2 zile de la publicarea clipului pe Youtube.
Update: Nike Football: Winner Stays On – o reclama la fel de spectaculoasa, postata aici in urma cu cateva luni.