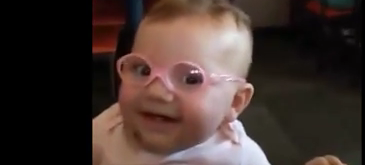 ADORABLE! Baby Gets Glasses, Sees Parents Clearly for First Time!!!
Adorable moment little girl sees parents clearly for first time…
The heartwarming moment little Piper tries on her new glasses and can see her parents clearly for the first time.
A delighted mother has captured the moment that her baby daughter could see clearly for the first time after being given a pair of glasses.
The footage shows Piper Verdusco as her parents struggle to put on her new spectacles and then the obvious difference they make to the youngster's vision.
Mother-of-two Jessica Sinclair, 26, from Cincinnati, Ohio, posted the video of her daughter, who has weak eyesight, on Facebook along with the caption: 'Picked up her glasses. Went out to eat and put them on her. Her reaction melts my heart.'
Si asta cu ajutorul primilor ei perechi de ochelari (sa speram ca si ultima, sa nu fie nevoita sa poarte ochelari toata viata). Reactia fetitei iti topeste inima.

thx to branco