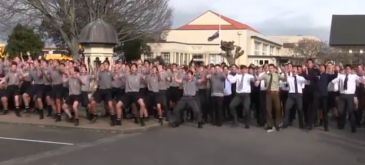 PNBHS Haka for Mr. Dawson Tamatea's Funeral Service
The entire school performing the Haka during the arrival of Mr. Tamatea in the hearse. This was a very emotional and powerful performance. We are extremely proud of our boys' performance and we know that Mr Tamatea would be too.
Sunt de parere ca metoda asta de luat ramas bun – celebrul Haka, specific neo zeelandezilor – e mult mai buna decat cea cu bocete, suspinete si plansete. Respect!

thx to branco