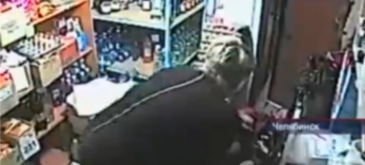 Ex-boxer got beaten up by grandma in Chelyabinsk, Russia
There is a very famous Nekrasov poem about Russian women, "In Russian villages there are (some amazing) women" (есть Женщины в Русских селеньях!); the women who could stop a galloping horse, or enter a burning hut." Here is one of them. And they say that Putin doesn't have any viable alternatives.
This footage is taken in Chelyabinsk, city famous by meteorite fall.
Lucreaza la un chiosc, se hraneste bine, se antreneaza zilnic snopind in bataie fosti boxeri.