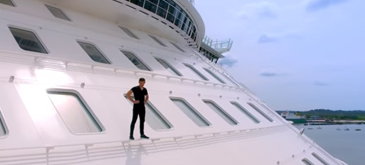 We wanted to give passengers the ultimate virtual tour of the world's largest cruise ship, Harmony of the Seas. So we let freerunning champion Pip Andersen loose.

The film has been shot to showcase the very best that our 1,188 foot mega-ship has to offer, but at just under two minutes, we only scratch the surface of what guests can expect when they board this summer.

With 18 decks, 2,747 staterooms, 23 swimming pools, 42 bars and lounges, 10,587 plants, over 500,000 individual parts and seven distinct neighbourhoods including a theatre, spa, shopping district and even an ice rink, it is no wonder Pip was only able to take in a just a few of the extraordinary highlights onboard the world's largest and most innovative cruise ship.

Pip found fame recently when he was cast in the latest Star Wars instalment, The Force Awakens; but when this particular Storm Trooper isn't battling the Republic, he is – as you can see – a world class freerunner.
Astazi il lasam pe Pip Andersen sa ne faca un tur al celui mai mare vas de croaziera, Harmony of the Seas. Enjoy!