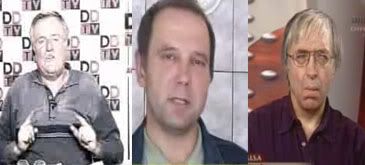 Si pentru ca ati fost copii cuminti sa stiti ca m-am gandit la voi. Pentru garantarea succesului acestei zile m-am gandit sa va arat trei clipuri care cu siguranta va vor ajuta sa ramaneti fericiti pana la apusul soarelui. Astazi ne vom ocupa de paranormal. Paranormalul la romani.
Pentru inceput ne reintalnim cu teribilul Lorin Fortuna. Veti vedea un comunicat de anihilare a agresiunii civilizationale serpiliene dizidente (!?). Comunicat ce il puteti gasi si la adresa: veveve lorin liniuta la mijloc fortuna punct ro. (thx to Vis Urat for the link) .
Mai pe urma, putem viziona un filmulet mai vechi ce contine niste unde benefice. Chiar daca il vedeti in reluare, el isi va face efectul. Garantez aparitia instanta a fericirii, indiferent ce culoare ar avea ea.
S-apoi inca doua rapide cu si despre paranormalul la romanii de rand (nu asia ce sunt deja vedete). Pe scurt: unde electromagnetice, Bruce Willis, iluzii optice, extraterestrii, implanturi in creier. Btw, stiati ca cuvantul "drac" apare in denumirea "card de credit/debit" sau "card de identitate"? Card-drac. Got it? E ceva malefic la mijloc. Aruncati-va cardurile.
Destul cu vorba, la drum:

1. Lorin Fortuna- Comunicat din 17.07.2007.

2. Bivolaru emite .. fitzi pe receptie. Tuca se cam sperie.

3. Identic card sau identic ortodox?

Lipseste doamna cu prosopu', dar despre asta am scris mai de mult – link.