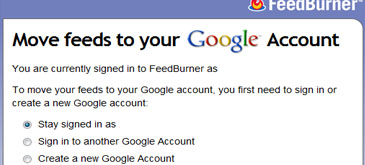 Cool, you recently moved to a Google Account! Your feed stats might be low for a bit; they should return to former levels in about 72 hours.
In iulie 2007, Google a cumparat FeedBurner astfel apare anuntul cum ca feedburner.com/google devine feedburner.google.com (lucru sesizat deja de catre utilizatori).
Adineauri am fost nevoit sa urmez si eu acest pas, mutarea feedurilor mele durand nu mai putin de 30 de secunde iar toata operatiunea a necesitat 3 clici si 2 miscari.
In caz ca aveti feeduri la Feedburner si nu ati autorizat inca mutarea aflati ca  pana pe 28 Februarie va trebui sa va logati si sa un click pe "move your account now" (oricum nu aveti alternative 🙂 ). Daca nu o faceti pana la data anuntat, Google le va muta fara actiune din partea voastra.
Aveti mai multe detalii aici si aici.
later edit: Din cate se pare pot exista probleme (un timp) cu raportarea userilor inscrisi la feed. Nu disperati, se rezolva. 😉
Folositor: Ce e Feed-ul RSS. Cum se foloseste.