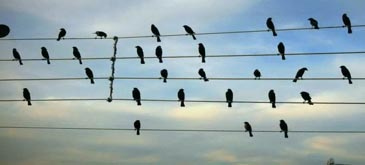 Reading a newspaper, I saw a picture of birds on the electric wires. I cut out the photo and decided to make a song, using the exact location of the birds as notes (no Photoshop edit). I knew it wasn't the most original idea in the universe. I was just curious to hear what melody the birds were creating. I sent the music to the photographer, Paulo Pinto, who I Googled on the internet. He told his editor, who told a reporter and the story ended up as an interview in the very same newspaper.  Here I've posted a short video made with the photo, the music and the score (composed by the birds).
Music made with Logic.
Video made with After Effects.
The newspaper story about my work (O Estado de São Paulo): tinyurl.com/l4qdbg
Pe scurt, tipul asta a vazut o poza intr-un ziar, poza ce suprindea un stol de ciori (alea-s ciori, right?) dispuse pe cateva cabluri de inalta tensiune. Ce s-a gandit? A luat fiecare pozitie de cioara si a transpus-o pe un portativ iar mai apoi a creat muzica. A iesit ceva suprinzator, stirea zice ca nu exista niciun adaos facut de autor. Pai putea oricand sa puna o cioara sau doua in plus pe acolo, sa iasa cat mai bine, nu?
P.S. Si acum o intrebare existentiala. Pasarici sau Pasarele? Si in ce situatii le folosim pe ambele?