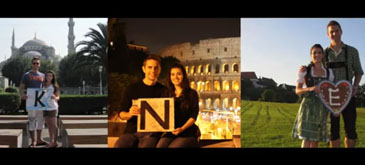 We've been dating for 6 years and about a year into our relationship had the idea to document some highlights of our lives by taking pictures with letters. We wanted to prove that if one day we got married… that "we always knew". What my girlfriend didn't know is that for our final letter (which we had done in our home town) I had something bigger planned. Enjoy the video.
fulgerica, scuze ca iti scriu aici, dar cumva sper sa citesti mesajul. Mai demult postasei un video cu o cerere in casatorie. Cuplul acela calatorise foarte mult, iar ei faceau poze cu litere in orasele pe care le vizitau. La sfarsit cand au ajuns la ultima poza, el a cerut-o in casatorie printr-un mesaj scris de prietenii lui in spate. Iar la captura foto, fata a vazut ceea ce facuse el. Sper ca am fost destul de eplicit si iti amintesti de video. Daca da, te rog sa imi dai un link catre el. L-am cautat de ore bun, insa fara succes. Multumesc!
Lucrurile sunt simple, timp de sase ani acest cuplu a calatorit in lume si in fiecare oras s-au fotografiat alaturi de o litera astfel incat la sfarsit au alcatuit cumva fraza "we always knew" (intotdeauna am stiut). Doar ca la ultima poza, cea cu litera "W", tipul i-a pregatit ei ceva…..
Update: nu-l postasem aici atunci cand a aprut pe internet, era si pacat. 🙂