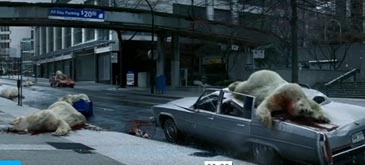 We wanted to confront people with the impact that short-haul flights have on the climate. We used Polar Bears because they're a well understood symbol of the effect that climate change is having on the natural world.
Plane Stupid.
Omenirea are o problema: zboara prea mult iar climatul Pamantului se schimba pe zi ce trece. Cel putin asta este parerea celor ce au realizat campania vizibila mai jos.
Fiecare va intelege ce va crede de cuvinta din materialul asta, cert este ca mesajul real e foarte convingator. Din cate am citit, campania a starnit multe controverse prin simplul fapt ca imaginile sunt mult prea violente.
[detalii, aici]