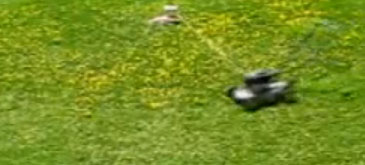 Here's an experiment I did with my self-propelled mower. It's cutting most of the back yard (a large circle) by wrapping a rope around a couple of stakes.
O ideea excelenta pentru toti burghezii pe care i-a ajuns criza din urma si care nu-si mai permit sa plateasca un om pentru un astfel de job.
Btw, aici gasiti o oferta interesanta de masini pentru tuns iarba/gazonul.