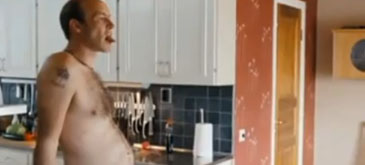 T.E.S.T.O.S.T.E.R.O.N !
Vrei sa-ti fac EU o salata? Bine, uite-ti salata…
Mai jos aveti o scena din filmul suedez "Farsan" (The Father). Traducere aproximativa a conversatiei celor doi:
She: What is it? He: What is it yourself. She: What the hell are you doing? He:What the hell are YOU doing? He: Hey! *Humps chair* She: but what the hell are you doing, stop that! what the fuck are you doing? Go make salad instead! He: Salad eh? He: Tomatos! Salad! *Grunts* He: There you go, Macho Salad!
[thx to tibi]