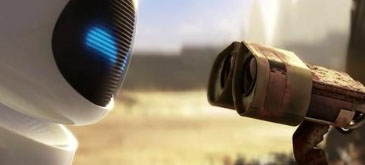 After spending 11 days re-watching all 11 Pixar feature films, Leandro Braga took 500 hand-selected scenes and made an amazing tribute to the best animation studio on the planet. This mash-up is a trip in the films of Pixar Animation Studios. Were 11 days re-watching all feature films, selected more than 500 scenes, and a hard work editing.
Editor's note: Pixar's films have always been very important in my life. I was 6 years old when I watched Toy Story the first time, and his films made my childhood more happy. So this video is a personal tribute for, in my opinion, the best animation studio of all time.
This video was purely non-profit and not aimed at breaking copyright laws.
Mai jos avem un filmulet dragut ce contine bucati din cele mai bune animatii produse de Pixar. Realizatorul acesteia – Leandro Copperfield – a revazut intreaga filmografie a celor de la Pixar, intr-un timp de 11 zile, pentru a creea aceasta compilatie.
La sfarsitul postului gasiti si lista completa cu numele fiecarui film, asta in caz ca ati ratat vreunul iar compilatia va trezeste interesul. Vizionare placuta!


Lists of films used …
Toy Story (1995)
A Bug's Life (1998)
Toy Story 2 (1999)
Monsters, Inc. (2001)
Finding Nemo (2003)
The Incredibles (2004)
Cars (2006)
Ratatouille (2007)
WALL-E (2008)
Up (2009)
Toy Story 3 (2010)
Funny connections:
The Shining (1980)
Goodfellas (1990)
Audio Copyright Notices:
"Intro" by The XX remains courtesy of Young Turks, © 2009.
"La Vie En Rose" performed by Louis Armstrong remains courtesy The Verve Music Group.
"Down to Earth" by Peter Gabriel from the film Wall-E 2008.
"You've Got a Friend in Me" by Randy Newman from the filme Toy Story 1995