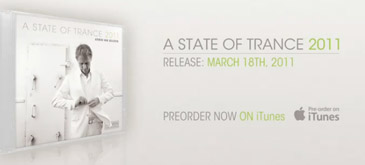 Servus man,

Ai mai scris tu şpârle despre mine (defapt printre puţinii din ţară) şi cam de aceaa apelez acum la tine pentru puţin promo.

http://www.arminvanbuuren.com/news/2011/02/a-state-of-trance-2011-tracklist/

Am mai reuşit o premieră în muzica electronică românească (primul român pe deja legendarul ASOT anual), dar care încă o dată bănuiesc că o să treacă neobservată de autohtoni. Aşa că putin sprijin este foarte bine venit.

Numai bine,
Petrişor.

–Anhken
Pe Anhken (Petrisor Dima) il cunoasteti deja (Facebook, Facebook Fan Page, Twitter) , am mai scris despre el in 2008, atunci cand va anuntam ca a reusit o premiera nationala: primul roman invitat sa mixeze in show-ul lui Tiesto: "Club Life" la "15 Minutes Of Fame. Se pare ca in acest an a reusit sa sparga orice record romanesc si ajunga pe compilatia anuala ASOT prezidata de celebrul Armin Van Buuren. Nu pot decat sa-l felicit si sa sper ca voi avea ocazia sa-l intalnesc cat mai rapid si sa-i strang mana. Poate nu stiati dar tipul e brasovean (am aflat azi si imi cer scuze pe aceasta cale. Eu, marele consumator de trance, sa nu stiu un asemenea lucru!!! That's simply Outrageous!!) asa ca sunt sigur ca o pot face chiar luni. 🙂
A State of Trance 2011 will be released March 18th.
Mai jos avem si piesa cu care participa la compilatie – Anhken – Always Look Back (Classic Touch)
Update: Dragii mei, daca reusiti cumva sa preluati aceasta stire si sa o promovati (pe Facebook, Twitter, blogurile personale, forumuri de muzica electronica, etc) i-am face un mare bine lu' Petrisor si implicit muzicii electronice romanesti. Ce ziceti?  Am sau nu dreptate? 😉
Mii de romani asculta saptamanal ASOT-ul lu' Armin si implicit pe Anhken iar  multi dintre ei habar nu au ca acesta din urma este conational de-al lor. Pai nu-i pacat? 🙂


Felicitari inca o data!