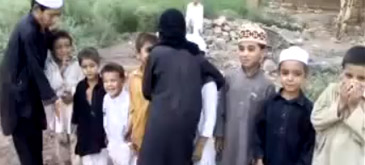 Is that what left to children to play in Pakistan?
I found this video on Facebook as a funny video which was shocking for me. Terrorism and war on terror both did severe effects on children which are present in the area.
Bai, astia nu au auzit (saracii) de "hotii si vardistii", "de-a doctorul", sotron, elastic, castel sau alte jocuri normale intalnite intr-o societate civilizata!!
Va dati seama? La intrebarea : "ce vrei sa te faci cand o sa fii mare?" – majoritatea raspund: "terorist sinucigas cu bomba". Wtffffffffff?