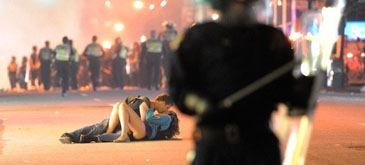 Orasul ardea, oamenii se bateau, totul fierbea in jurul lor.
Doi tineri au fost surprinsi pe caldaramul din Vancouver, sarutandu-se de mama focului in timp ce in fundal se vede o mare de forte de ordine, iar un mascat este la cativa metri de indragostiti.
"Au inceput sa dea in noi cu scuturile, incercau sa ne faca sa plecam. Nu eram agresivi si la un moment dat au trecut de noi. Atunci am ramas pe jos. Ea era isterica, asa ca am incercat sa o calmez", a explicat tanarul, pentru CBC, potrivit Huffington Post."

[De aici]

Saptamanile trecute am putut vedea cu totii circuland in online (si nu numai) o poza care a devenit celebra, nu cred ca exista om care sa n-o fi vazut-o pana acum.
VANCOUVER — The Vancouver riot kissing couple has been identified as Alexandra Thomas and Scott Jones, but many wondered what happened in the moments before that iconic kiss photo by photographer Rich Lam?

Now a new video has surfaced on the Internet that shows what happened.
Astazi putem urmari un nou material video care a surprins – dinintr-un unghi aproape,perfect – circumstantele exacte in urma carora poza a fost realizata: