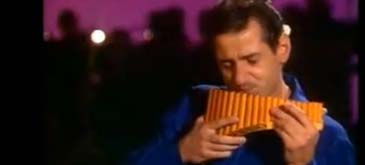 Gheorghe Zamfir (Romanian pronunciation: [ˈge̯orge zamˈfir]; born April 6, 1941 / Găeşti, Romania) is a Romanian pan flute musician who has received 120 golden and platinum disc awards and sold over 200 million albums.

He is widely known as "Zamfir, Master of the Pan Flute".

http://en.wikipedia.org/wiki/Gheorghe_Zamfir
http://www.gheorghe-zamfir.com
A venit momentul (mai ales pentru cei mai tineri dintre voi) sa intelegeti/sa va aduceti aminte – prin intermediul acestei piese care este imposibil sa nu-ti dea fiori pe sira spinarii – cine este acest Gheorghe Zamfir, un artist deloc promovat in Romania zilelor noastre insa adorat de milioane de oameni la nivel mondial.
Update: in caz ca nu stiati – in domeniul cinematografiei, G. Z. a participat la compunerea coloanei sonore a unor filme celebre cum ar fi Once Upon a Time in America, Karate Kid sau Kill Bill (piesa de mai jos).
Respect (7 mil. vizionari pe Youtube):


[via mihai voiculescu]