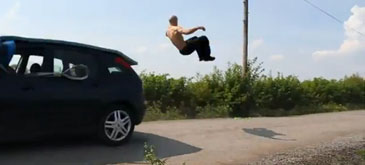 Despre Damien Walters v-am mai povestit si prin 2009  atunci cand il comparam cu Superman.  Cert este ca acest fost gimnast  (a participat la Jocurile Olimpice),  specialist in sarituri si arte martiale, ne demonstreaza  inca o data ca este un tip absolut fenomenal.

Professional stuntman, gymnastics coach and free runner Damien Walters returns with his annual video: Damien Walters 2011 Showreel.
Here Damien showcases his latest stunts, flips and tricks in true creative fashion.
Cand vine vorba de Damien Walters trebuie sa spunem doar atat: Superman. Sa ne asezam confortabil in fotolii si sa urmarim impreuna materialul din 2011 – ajuns la peste 1 milion de vizionari in doar cateva zile de la lansare: