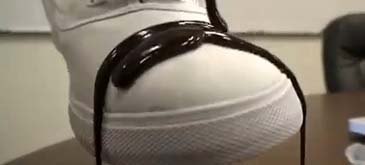 Ross Technology Corp. needed a better way to reduce corrosion on the steel products. When they couldn't find a suitable one, they worked on creating something on their own. And eventually they hit upon a slick product that's led to a whole new business. That product is NeverWet, a silicon-based spray-on coating that repels water and heavy oils. http://articles.lancasteronline.com/local/4/438712
Ross Technology Corp. – o firma americana de renume – incearca sa gasesca o solutie pentru a reduce procesul de coroziune asupra produselor din otel pe care le fabrica.  Negasind pana acum ceva util pe piata s-au hotarat sa inventeze o substanta care sa aiba proprietatile respective. Rezultatul?
NeverWet (tradus "niciodata ud") – o substanta pe baza de silicon care poate fi aplicata pe suprafetele metalice dar si pe cele vestimentare, suprafata tratata comportandu-se surprinzator de bine la contactul cu apa sau cu uleiurile grele.
Acum stiu ce vreu sa-mi aduca Mos Craciun, o lada de NeverWet. 😀
Update: Din cate am ineteles, NeverWet nu este disponibil spre vanzare publicului larg (presupun ca se afla inca in teste) insa va fi disponibil la inceputul anu;ui 2012 (de aici)