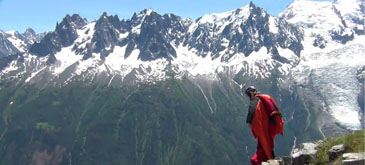 CAUTION BASE JUMPERS!!!! This is an expert wingsuit jump, with a very big ledge at 50m, very low departure, electric cable, tons of paragliders, restricted landing area… PLEASE don't jump there if you're not an expert, do not overestimate yourself!!
Stiu ca va plac astfel de lucruri asa ca va ofer mai jos inca un material "breathtaking", niste imagini uimitoare asa cum doar base-jumping-ul poate oferi.
Somewhere in Paradise from descols vincent on Vimeo.