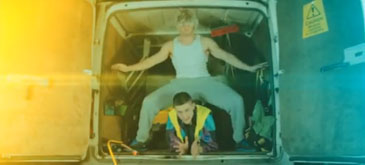 Bricka Bricka, your favourite Eastern European immigrant returns with a parody of PSY's popular GANGNAM STYLE

BRICKA – @TheVujanic
DIRECTOR/EDITOR/HUMAN TRAFFICKER – @ClaudiuVoicu
AUDIO/PRODUCTION – @CHRISCASINOVICE
Bricka Bricka e un raper de origine sarba care a ajuns vedeta pe Youtube prin parodiile sale. Ultima sa creatie este o parodie dupa celebrul PSY – Gangnam Style.
Va invit sa o vizionati si dupa aia sa-mi spuneti cateva cuvinte despre cat de mult se potriveste aceasta parodie emigrantilor romani. 🙂
Update: Claudiu Voicu e roman, corect?