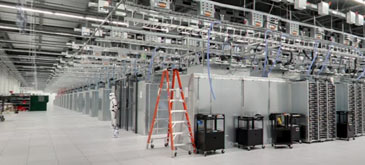 Watch a guided video tour of a Google data center

From our networking room to the cooling towers outside of the facility, you can explore the different areas of a Google data center in this guided video tour. Learn more about what you're viewing in Street View above, and see some of our equipment in motion.
Multi dintre noi nu au habar ce anume sta in spatele fiecarei cautari pe care o facem pe Google. Iata ca astazi avem ocazia – chiar prin intermediul aplicatiei Street View – sa vizitam impreuna cladirile Google fara de care internetul nu ar reprezenta ceea ce este astazi.
Sincer sa fiu, dupa ce am vizionat aceste imagini, m-am trezit ca aveam gura cascata.

[vazut si la piticu]