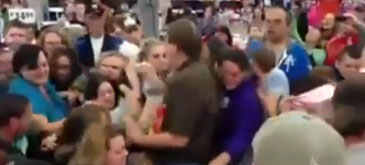 Walmart Black Friday Fighting Over Phones During 2012, White People Act Like Animals
The traditional Thanksgiving shopping frenzy ate into the day itself this year with stores throwing open their doors on Thursday evening.
Judecand dupa fraza din titlul postarii de pe Youtube " White People Act Like Animals" doar presupun ca un cetatean de culoare a postat imaginile urmatoare in care putem urmari cum zeci de cetateni se bat la propriu pe niste cutiute.
Veti intelege de ce eMAG.ro a ales sa desfasoare BlackFriday 2012 doar in online. 🙂
Later edit: Si daca tot e weekend (deci sunteti relaxati) va invit sa-mi raspundeti la intrebarea "Ati cumparat ceva de Black Friday?" folosind chestinoarul de mai jos:


Loading ...
Ok, multumesc. Acum urmariti clipul:


thx to branco