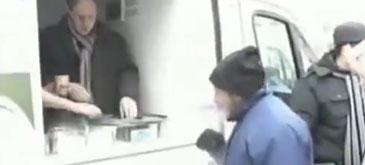 North Korea television takes a look at american poverty

A segment from a North Korean documentary highlighting the plight of the vast numbers of americans who live in extreme poverty.
While this is a somewhat ludicrous piece, the number of people currently living below the poverty line in the us is almost twice the DPRK's entire population.

A helpful but very dull northern person provides the translation.
"Americanii sunt saraci", acest lucru reiese dintr-un documentar nord-coreean avand ca subiect  saracia din SUA, insa in care, daca sunteti un pic atenti, puteti gasi  si cateva imagini filmate in  Gara de Nord din Bucuresti.
Daca "ma dadeam" un pic pe internet si editam cateva imagini scotandu-le din context, cred ca pana si mie imi iesea un documentar mai reusit. Insa hai sa zicem ca in Coreea de Nord nu exista internet (sau e filtrat contentul la maxim).
Cei mai norocosi cetateni americani impart o camera cu alti nevoiasi, iar echipa de filmare nord-coreeana i-a oferit unuia dintre ei o cafea adusa din tara lor si o patura. Tot ei provoaca o mare bucurie in randul americanilor saraci atunci cand ii aliniaza si le ofera o prajitura.
[via ziare.com]