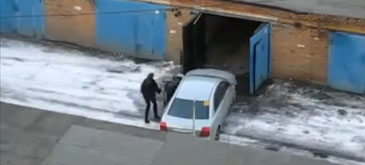 A woman tries to enter the garage door
What the f**k is she looking at every time she gets off the car? I just don't get it… she must be retarded…. or blond xD
Va dati seama ca lucrurile stateau cu totul altfel daca tipa conducea o bicicleta? Totul ar fi fost extrem de simplu, si-ar fi sprijinit bicileta de un perete si ar fi ajuns rapid in casa. Asa si-a pierdut 7 minute din viata masurand unghiuri si unghiulete, o fi dat-o si barba'su disparuta intre timp.