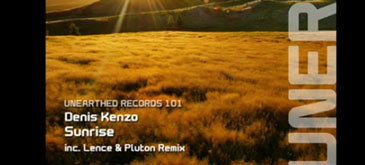 Kicking off the second century of releases on Unearthed Records is Denis Kenzo with his magnificent track Sunrise. Kenzo has created a beautiful melodic trancer in Sunrise, with a chunky bassline, punchy kickdrum and crisp percussion backed with atmospheric pads and a simply breathtaking guitar riff.

On remix duties are Lence & Pluton. They have taken the track one step futher, building on the original guitar riff and introducing their own synth driven main hook which blends perfectly with the emotion of the track.
Continuam seria recomandarilor facute de voi. Astazi ascultam un alt piesa trimisa de catre Adi (caruia-i multumesc si-l mai astept "pe la noi" cu noi recomandari).
Weekend fain.