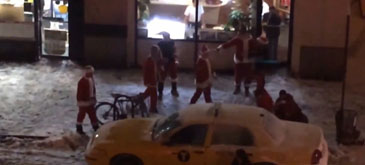 Santapocolypse NYC 2013
Uploaded on the holiest of holidays, Santacon 2013. Santas engage in a spirited fight on the streets of NYC.

Nu stiu contextul, presupun ca baietii au iesit de la o intrunire (Santacon 2013?), s-au contrazis un pic pe anumite teme (lepricorni, Rudolf, saniute, etc), au baut cateva pahare iar inevitabilul s-a produs. O gramada de de Mosi s-au incaierat zilele trecute pe o strada din New York.
Merry Christimas everyone!!! Ho, ho, ho, ah, ah, au, auoaleu,..
via zoso