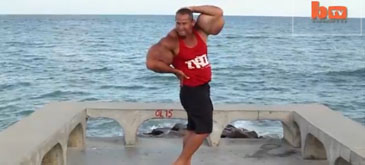 My Supersized Muscles Are Fake
BEEFCAKE Arlindo 'The Mountain' de Souza believes he has grown the biggest arms in Brazil – after injecting a cocktail of mineral OIL and ALCOHOL into his arms. The 43-year-old's 29in biceps are filled with a synthetic filler, said to be sweeping the bodybuilding community. But the bricklayer's size has not made him any stronger and he can only lift normal size weights. He turned to the substance for two months two years ago to make him the king of his competitive local gym in Olinda, Brazil. But using it can be incredibly dangerous and 'oil' injections have already claimed the life of his close friend, Paulinho. According to doctors, heavy users like Arlindo can develop multiple abscesses in the muscle tissue, which can lead to amputations and even death.

Videographer / Director: Maria Andrade
Producer: John Balson
Editor: Ian Phillips
Se stie ca femeile "mor" dupa barbatii care poseda un corp bine lucrat…….
Synthol Powah!