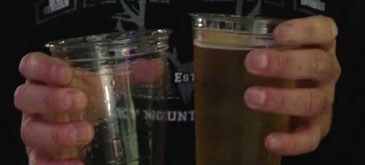 We don't just hunt Archery, we enjoy a local sporting event in our awesome city of Boise, Idaho from time to time. The subject of this video, however, is not so awesome! Century Link Arena is totally ripping off the good folks of Boise at their Steelheads Hockey games, and likely all other events, concerts, etc. held here! You watch the video and be the judge!
Situatia prezentata mai jos sta cam asa:
Bere draft pahar 400 cl (mica) = 4 $
Bere draft la pahar 500cl (mare) = 7 $
Continutul paharului mare incape perfect in cel mic. 🙂

)
Or fi americanii tepari insa se pare ca a fost totusi vorba de o eroare. La doar o zi distanta paharele "mari" au fost marite. 🙂
CenturyLink Arena has responded quickly! They are ordering 24oz cups to be the "New Large" for future events, sold at the same $7 price point.
)