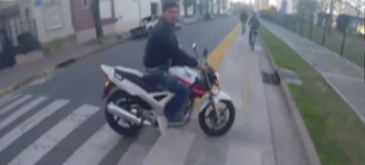 Attempted robbery at gunpoint caught on cyclist's GoPro!

Canadian, Mike Graziano and Alexander Hennessy are on a mission to travel to every country in the world. While biking through a rough neighborhood in Buenos Aires, Argentina, a motorcyclist suddenly cut in front of Hennessy . He was surprised, but brushed it off as bad driving. But then the biker returned with a gun, screaming in Spanish!

Alexander caught the entire scene on his helmet GoPro camera, and thankfully, made it out without a scratch.

Credit: GlobalDegreeTV
Ceea ce veti vedea mai jos nu prezinta diferente mari raportate cu ce am postat eu in trecut, aici (vezi ultimul link).