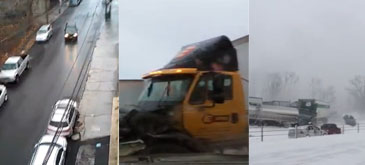 Mai jos putem vedea ce poate sa se intample pe drumurile acoperite cu gheata. Tot ce veti vizona este filmat zilele trecute in diverse parti ale lumii:
4 Wheel Ballet In Yonkers, NY
Had a good bout of freezing rain today and someone should have stayed home.
Credit: Roberto Rex Mejias
I was blocked by two trucks on south bound I-95 at exit 9 in NJ (New Brunswick exit). I only wanted to take a picture while i was awaiting for them to clear up… And then I heard a noise from behind…I was barely missed.
150 Car Pile-Up on Michigan Highway I-94