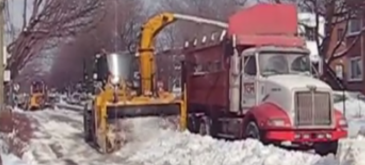 Montreal Snow Removal Rue Mackenzie. This is a regular process Montrealers go through each winter. After a strong snow storms (Usually over 15cm) the city of Montreal needs to clean up and remove the snow from the entire city to allow traffic return to a normal life.
This process is fascinating even for these who are used to it.
It requires lots of heavy equipment, extensive man hours and lots of money.
….de pe strazile din Montreal. Aproape ca la noi. 🙂

Si acum, exemplul din Galati:
Aceeasi stire la ProTV:

thx to Ovidiu I