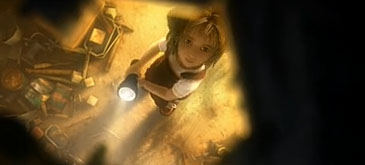 In primul rand as vrea sa va multumesc din nou tuturor celor care mi-au tot trimis  materiale pentru rubrica noastra de vineri.  Totodata va asigur ca niciun material nu va ramane nepublicat asa ca am sa va rog sa nu va opriti din trimis. Ahh, important: prioritate vor avea calitatea imaginii & noutatile.
Astazi ne delectam urmarind o animatie trimisa de catre Alex iar ca bonus (doar ati fost cuminti)  am sa va rog sa dati un ochi aici (thx to Jorj) unde o sa vedeti o chestie extrem de reusita.
MEET MELINE : THE ANIMATED SHORT FILM
"Meet Meline tells the story of a little girl whose curiosity is sparked by a mysterious creature as she plays in her grandparents' barn."

"Meet Meline" is a 3D animated short film created independently and without any budget by Virginie Goyons and Sebastien Laban (Sound Design: Cedric Denooz, Music: Guillaume Roussel).
The making of: