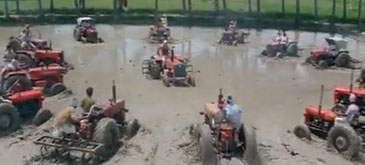 Nobody drives a tractor like Chiranjeevi! For the first time the whole scene, complete and uncut, on Youtube.
Nu am ce sa mai zic, nu mai am destule cuvinte pentru a descrie ce urmeaza sa vedeti, am facut-o deja prea des si se pare ca am ramas fara idei.
Tot ce pot face este sa va urez vizionare placuta la prima bataie cu tractoare si tractoristi la care asistati in premiera – as zice. Un moment emotionant, chemati-va rudele si prietenii inainte de a apasa butonul "Play"! 🙂


Filmul se numeste "Alluda Majaka" si o scena de mare angajament poate fi vizionata si aici (aia cu calu').
[thx to Jorj]