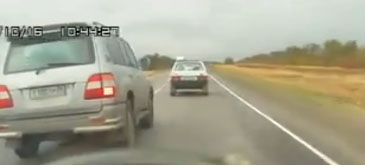 Russia, 16 October 2010 – Toyota Land Cruiser overtakes a Lada and slams his breaks. WTF happened, the Lada driver gave him the finger???
Nu radeti, chestii asemanatoare se intampla si in traficul din tara noastra. Nu de putine ori am vazut faza cu "ma bag in fata ta si pun frana". Doar ca urmarind imaginile de mai jos, pot zice ca imi pare rau pentru soferul Lazii. A cam suferit!
Nu va puneti cu bizonii din trafic!